I've created a new blog because I could no longer post my blogger( which I had been using until today).  And I was trying to recover my previous articles but end up falling .
Today'a topic is that " singular/plural difference between the USA and the UK and Australia.
Ive just run a quick run in the Corpus Of Contemporary English( COCA) for <Boeing has VS Boeing have> and for < Manchester United has VS Manchester United have>.
this is the link -- http://corpus.byu.edu/coca/
 <Boeing has> more than 90 hits 
<Manchester United has> 6 hits ( actually, one of these is for < the Fan Club of Manchester United has> but that is also a similar example of a singular verb after a group subject ).
<Boeing have> 8 apparent hits( but in fact, all of them are for more complex plural subjects like< Airbus and Boeing have> or < workers at Boeing have>. So there are zero cases of> have> following < Boeing> as an only subject.
<Manchester United have> zero hits in COCA.
British Usage🇬🇧

The east London Premier League teams Tottenham Hotspurs ("Spurs") and West Ham United ("the Hammers") played yesterday, and I looked at the BBC online report of that match
http://m.bbc.com/sport/football/39741514
The report referred to these two teams, but also to other rival teams in the Premier League competition, which is due to end very soon: for example, teams such as Chelsea and Liverpool. Sometimes teams were called by plural names ("Spurs", "the Hammers", "the Blues" [Chelsea]) and here, naturally, plural verbs (<have>, etc.) were used. This would be exactly the same in U.S. practice with "the Giants" or "the Marlins". Plural forms are also used when the report switches from the team name to a pronoun or possessive (<they>, <their>, etc.):
<Tottenham made the short trip to east London knowing they could heap pressure on Chelsea ....>.
But this also happens often in American sports reporting. The American singular rule is only strict about a verb that follows the team name closely (Present: "Tottenham makes the short trip...").
At other times, the team's place name is used, or a word such as "side" or "team" is used instead. In both of these situations, the British reporting nearly always uses a plural verb such as <have> whereas US usage would go for a singular one such as <has>.
In the above report, I find 8 examples of this kind of singular verb usage that goes clearly against the US practice: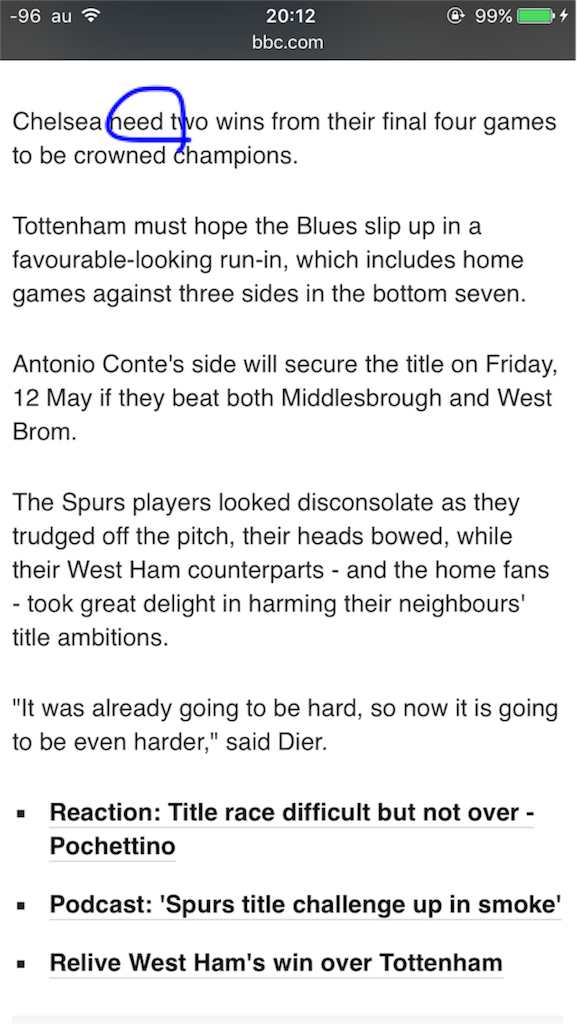 1 <Chelsea need two wins from their final four games to be crowned champions.>
2 <Mauricio Pochettino's side [Tottenham] were going for a 10th straight Premier League win, ....>

3 <Tottenham do not play again until Sunday, 14th May, when they host Manchester United ....>
4 <West Ham also have a nine day break, ....>
5 <.... returning to action when Liverpool visit [West Ham's] London Stadium at 14:15.>

6 <Tottenham have lost their previous three Premier league games in May ....>
7 <West Ham have now won three of their past four Premier League games against Spurs ....>
8 <West Ham have kept three consecutive Premier League clean sheets ....>
There is just one case where a singular verb is chosen. This is in a direct-speech comment from an interview with the West Ham manager slaven Bilic, who has lost one of his star players in a dispute recently. In the interview, he stresses the team's new unity:
<Asked if the win helps secure his future [as West Ham manager], Bilic said "I don't care. When my team is playing like this, I'm happy.">
Bilic is Croatian and has also played in Germany, and it is possible that he uses <is> because he is more used to American English for some reason. But it's not likely, I think, because US soccer and grammar influence in Europe are not so very great. I think it's more likely that he is enjoying a vision of West Ham as one well-functioning team. This is usually said to be the special case in which British English occasionally prefers a singular verb after a group subject (team, nation, company, etc.).
The difference between American and non-American English is strong in this usage because most sport or company reporting is carried in mainline media, and each media organisation has its own house rules about things like singular/plural usage. Nowadays, the rule-breaking plural or singular forms are not just removed by human subeditors, but are automatically corrected by the word processing systems used in the media organisations.
Another possible reason why that one singular occurred in the interview report above could be that the BBC grammar editing software is switched off in direct-speech passages, where it is better not to change the words actually used by the person being interviewed.
Nowadays it's impossible to talk about media texts only in terms of grammar. We have to take into account the publisher's in-house language policy, and the editing software that is based on it.
End .